While the rest of the world was grappling with socio-economic losses, among others, occasioned by the COVID-19 pandemic in 2020, Helen Jonah, a widow and mother of five, was concerned about the poor harvest in her farm located in the Agbetu area of Odeda Local Government Area in Ogun State, South-West Nigeria.
She grows maize, pepper, cassava, tomatoes, and vegetables on her farmland, a few metres from her house. However, there was no rain to irrigate the farmland. There was also no money to purchase water from the vendors. During the pandemic, they could not farm or go to the market from where they get alternative income because of the COVID-19 lockdown and restrictions on movements in the state.
According to SBMIntel, an Africa-focused research firm, Helen is one of approximately 79 percent of Nigerian farmers affected by the devastation of drought and flooding in 2020.
While still reeling from the loss, the mother of five visited a fellow farmer in Kila, a neighbouring community in the town, from whom she learned how to use local tools such as axes and cutlasses to dig for groundwater.
Upon her return to Agbetu, she involved other female farmers in the town and dug for about 20 days before getting to the water table.
<
"Some of us were severely injured, while a few others were later hospitalised following the daunting physical process," the widow, who appears to be in her 40s, told AWiM News. "But in the end, we got water to irrigate our crops."
Across the world, extreme weather conditions continue to threaten food security. A Food and Agriculture (FAO) report identified drought as the single greatest culprit of agricultural production losses, responsible for over 34 per cent of crop and livestock production losses in the Least Developed Countries (LDCs) and Low and Middle-income countries (LMICs) being traced to drought while costing the sector $37 billion overall.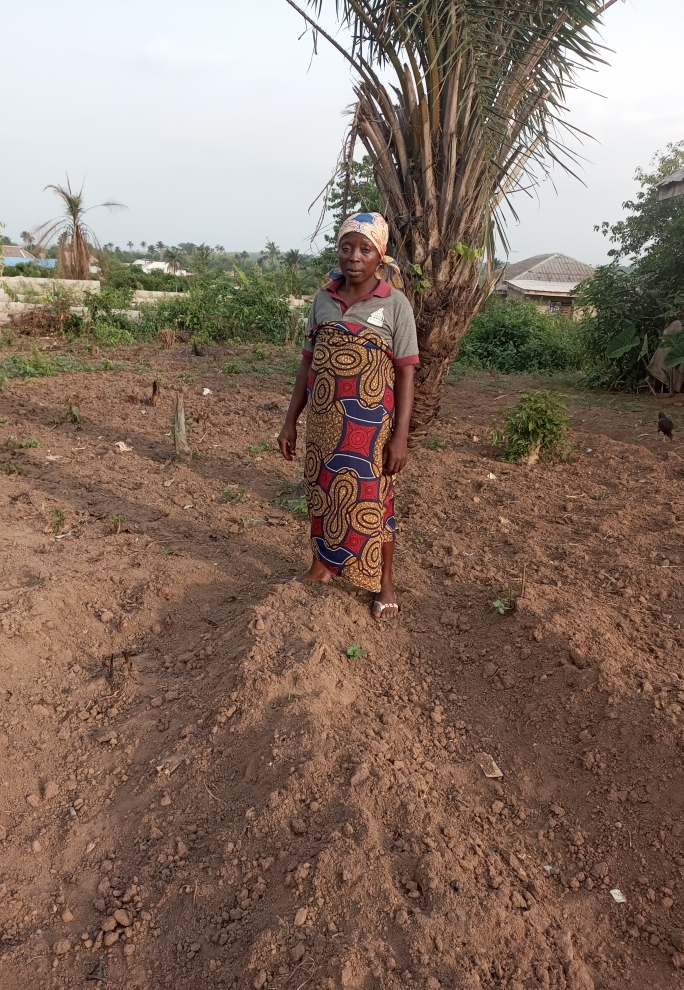 Helen Jonah posing for a picture on her farm in the picture below. Photo/ Adetutu Sobowale/AWiM
The SBMIntel analysis also found that the harvests of 26.3 per cent of Nigerian farmers like Ms Jonah, who live and work in rural communities, were significantly affected by extreme weather conditions.
While statistics like this may not matter to Ms Jonah, her inspiration, just like other subsistence farmers, to continue farming is hinged on making ends meet. According to the World Bank, farming and rainfall remain their hope for a better life in a country where 4 in 10 people live below the poverty line. Digging the ground to find groundwater to irrigate crops was their only solution to the lack of access to water.
Ms Jonah has started teaching other female farmers in the community. Not only that, but she also teaches about 50 farmers in her community how to use organic fertiliser. She had learned this from a family friend identified as Mummy Bose, who had come from Oyo State to assist her when she gave birth some years ago.
She introduced me to the use of poultry droppings as fertiliser. "This I took back to my community, Agbetu, to orientate the other female farmers," said Ms Jonah.
"This has in turn increased our productivity and income. It has saved many women in our community from domestic violence as they are now financially and economically independent.
In June 2020, a 50kg bag of fertiliser was sold for N14,000 (around $34). In March 2022, it was between N15,800 and N19,000 in Northern Nigeria. A trend that is forcing farmers like Ms Jonah to look for alternatives to local solutions.
Research has shown that cow and poultry dung can improve soil quality by holding more nutrients and water, thereby making it more fertile. Farmers like Ms Jonah in Agbetu and others in the Olugbo community depend on this organic fertilizer to improve their farms and reduce the aftereffects of desertification.
This organic fertiliser also helped Ms Mary Akande, a maize and vegetable farmer in Kila, located on the state border with Oyo State, on her farm, from which she gets farm produce to fend for her family during a period when the Lagos State Government seized her husband's tricycle taxi. Farming is now the family's only source of income.
"The use of poultry droppings is marvellous. It has tremendously increased my yields in folds, "Ms Akande said. "Since the sudden reduction in rainfall, the yields I had were scarcely enough for the family's consumption. But I now have a bountiful harvest."
According to her, farmers in Agbetu introduced her to poultry dung, adding that food prices have now been reduced. Everyday, food items such as cassava flour, locally called "garri," which was sold at the rate of N7,000 (around $17) during the long drought, are now N3,000 per portion in Odeda LG.
While speaking on the impact of the increased yield on their livelihood, Ms Jonah said, "Many of us can now afford to feed the family, pay our children's tuition fees, and live without fear of creditors knocking at our doors," said MsJonah.
This has increased the level of employment in my community. Some who stopped farming due to the biting effect of climate change are back in the farming system. We are now fighting food insecurity by increasing our production.
"We have plans to seek more knowledge on how to prevent the future effects of climate change to gain permanent financial freedom. But we need empowerment."
Commenting on the strength of organic farming, an expert and environmentalist, Temitope Ogunweide, said poultry dung is an essential source of bio-fertiliser used in many developing countries, such as Nigeria. Organic fertiliser is used as an alternative to chemical fertilisers by enhancing productivity in the long term while maintaining soil health and enhancing the soil's microbial population.
On how it can improve food security, he further looked at organic agriculture from three dimensions of sustainability: economic, environmental, and social.
In terms of the economic dimension, organic farming is a sustainable option for smallholder farmers to improve their living standards. As a result, organic farming is cost-effective for farmers as they won't have to rely on buying costly chemicals and, as a result, won't fall into debt.
"In the environmental dimension, organic farming improves soil quality. It improves resistance to diseases and pests and combats desertification by reducing soil erosion. It also protects the water resources from getting contaminated.
"In the social dimension, organic farming has the potential to contribute to long-term employment opportunities." Organic farming recognises the value of indigenous and traditional knowledge and combines both types of knowledge to enhance social capacity while empowering farmers," he said.
While noting that tropical soils in Nigeria are facing challenges in the area of soil acidity characterised by low pH and low organic matter, which is the most serious of them, Ogunweide said the use of inorganic fertiliser is only beneficial for a short-term fix, adding that its long-term side effects are soil compaction, erosion, and a decline in soil fertility.
He added that organic fertilisers are made from by-products of vegetables, animals, or minerals. As such, break down naturally and slowly provide nutrients and minerals to the soil without resulting in over-fertilising, which can affect the plants negatively.
"Organic fertiliser does not pose any danger to the underground water supply as it reduces acidity in the soil. It does not kill beneficial microorganisms present in the soil, "he said. Today, the effect of climate change cannot be overemphasised. Organic agriculture contributes to mitigating the greenhouse gas effect through its ability to sequester carbon.
According to a recent United Nations Environment Programme (UNEP) Foresight Brief, the potential of carbon sequestration in the soil and increased soil organic matter are supportive of enhanced food production, increased biodiversity, enhanced water retention, drought resistance, and other important ecosystem services.
Control of the Poultry Waste Threat
According to a researcher in The Forestry Research Institute of Nigeria, an extension of the Federal College of Forestry, Jericho, Ibadan, Dr Okon-Akan Omolabake, "the use of poultry dung in the agricultural sector has curbed the menace of poultry waste disposal across the country to a great extent."
"Disposal of poultry dung is an environmental concern already. Utilizing it for a greater purpose is an innovative solution. For now, using poultry dung as fertiliser is the best initiative adopted by farmers as it curbs the waste menace it may cause. It has helped greatly because, apart from polluting the water, it also pollutes the air," said Dr Omolabake who is also a poultry farmer.
At the recent 5th United Nations Environment Assembly (UNEA), UNEP's Executive Director, Inger Andersen, stressed the importance of coming to a global agreement on the definition of nature-based solutions.
"Three resolutions prioritise ecosystem restoration, biodiversity protection, resource efficiency, consumption and production patterns, climate mitigation and adaptation, job creation, and poverty reduction," she said.
In November 2021, Nigeria passed theClimate Change Bill that includes a net-zero target for 2050 to 2070. The bill includes provisions to set five-year carbon budgets under a National Climate Change Action Plan to be ratified by the Federal Executive Council. The Federal Ministry of Environment was tasked with setting the carbon budgets, while the National Council on Climate Change, established by the bill, will oversee implementation.
At the COP26 summit in Glasgow last year, Muhammadu Buhari, Nigeria's President, pledged that the country will cut down on its carbon emissions and reach net zero by 2060. The target is already lagging by ten years. The challenge to reaching the net-zero goal is to get the United Nations to fight global warming.
Explaining the importance of fighting against climate change, he said, "Nigeria is already facing the impact of climate change and the same is visible through the desertification that is taking place in the north, floods in the central, and the coast is facing pollution and erosion. Everyone needs to fight against climate change."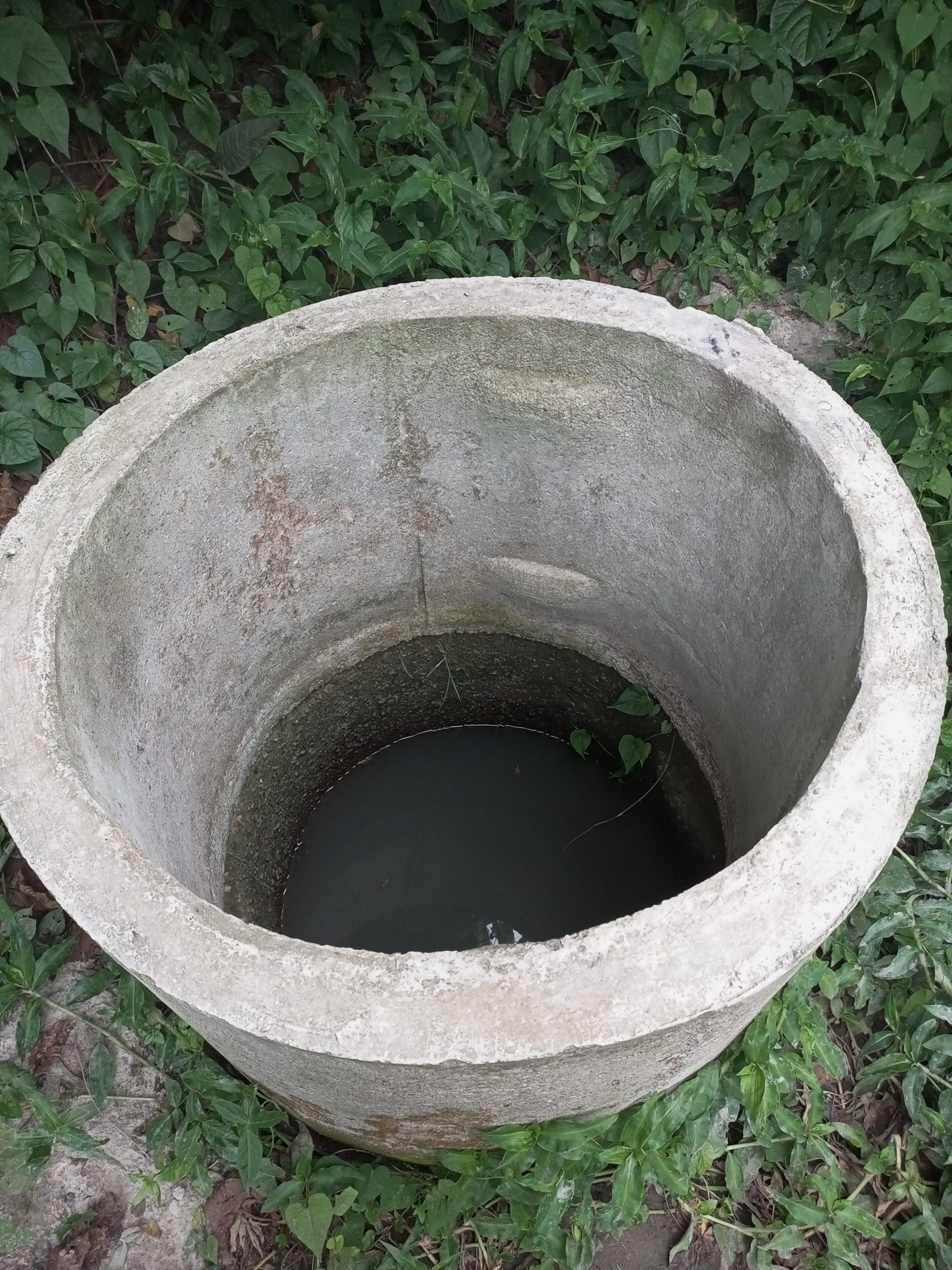 Speaking on the adaptation strategy in fighting climate change, the Ogun State Commissioner for Environment, Ola Oresanya, stated that afforestation would compensate for logs lost to illegal deforestation. He stated further that to avert the impact of climate change on agricultural productivity, creating awareness on when to plant, when to harvest, and other sustainability initiatives should be established to avert food insecurity in the country.
Looming food insecurity
The United Nations Food and Agriculture Organisation report has said that about 19.4 million people will face food insecurity across Nigeria between June and August 2022. The report, processed in collaboration with the Federal Ministry of Agriculture and Rural Development (FMARD) and other stakeholders, analyses acute food and nutrition insecurity in the Sahel and West African region.
The report said the food crisis would affect Nigerians in 21 states and the FCT, including 416,000 internally displaced persons (IDPs). It noted that about 14.4 million people, including 385,000 IDPs in 21 states and the FCT of Nigeria, were already in a food crisis until May 2022.
At a workshop on the Early Warning Systems/Climate Information Service project in March, Dr John Oyedepo, Deputy Director, Food Security, Environmental Resources, and Agricultural Research of the Federal University of Agriculture, emphasised the need for sustainable agricultural initiatives to avert food insecurity across the country.
He said the problem with food security is the weather. "In this part of the world, our farmers depend on rain. For instance, many of them are not going to farm yet because they don't know what the rain pattern will be this year. And we cannot continue to wait for the rain."
According to him, a rain-fed nation cannot be successful because the rain can be erratic. "So when we saw that problem, we thought that we needed to give them a kind of intervention, and the intervention was to put something in their hands that they could use to look at the weather and then plan their farming activities."
"So, thankfully, we can get support from the Tertiary Education Trust Fund (TETFUND), which has taken us to six states where we have established climate-smart villages, trained some local farmers in climate-smart agricultural practices, and developed an APPmonikr App to help them predict or forecast weather soon."
He ends by calling for the adoption of climate-smart agriculture since the rains are erratic.
This article is part of African Women in Media (AWiM)/UNEP Africa Environment Journalism Programme
Adetutu Sobowale